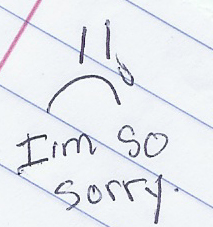 I'm really sorry! yes I known that I've make you angry
but please forgive me!! Please I bear you!
I swear in the name of Allah that I'll never do again!
Please

forgive me!
I'm really not mean to make harm to you!
Ok start from now day no more sarcastic word! please forgive me!
please!!

yup please laa
please!!

not let me be like this!

p/s:- I'm not mind if you want hitting me, cause I knew that I've did you angry
If you don't want to forgive me
Then I'll live at (a mental hospital)
Dear have you no compassion ?
I want to die (from shame)
Oh dear please forgive me